WILD MOUNTAIN THYME (2019)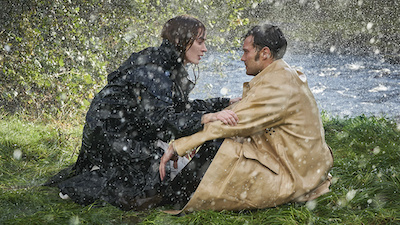 The film, an adaptation of Shanley's Broadway smash hit "Outside Mullingar," is about obstinate star-crossed lovers, whose families are caught up in a feud over a hotly contested patch of land that separates their two farms.
Writer / Director: John Patrick Shanley
Sales Agent: HanWay Films | Production Companies: Port Pictures and Mar-Key Productions.
Starring: Emily Blunt, Jamie Dornan, Christopher Walken, Jon Hamm & Dearbhla Molloy.
DEATH OF A LADIES MAN (2019)

A carousing college professor's life takes a series of unimaginable turns, and all the old stories are given a new twist, when he begins to have surreal hallucinations and learns he may not be long for this world.
Director: Matt Bissonnette
Sales Agent: Celluloid Dreams | Production Companies: Port Pictures Ltd / Corey Marr Productions / Don Carmody Productions / MCP Productions.
Starring: Gabriel Byrne, Jessica Paré & Brian Gleeson.
FLOAT LIKE A BUTTERFLY (2018)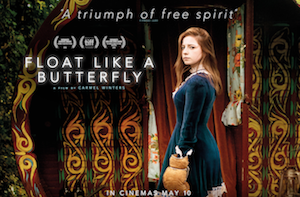 Irish Traveller Frances has to fight for the right to pursue her passion…boxing. She is determined to make her idol Muhammad Ali proud, as well as her father who has recently been released from prison. But when she wants to show him just how tough she is, she soon comes to realise he's got other plans for her.
In September 2018, Float Like A Butterfly won the International Federation of Film Critics (FIPRESCI) award at the Toronto International Film Festival (Discovery Section) and then went on to pick up the Audience Award at the Cork Film Festival, where it had its Irish premiere in November that year.
Writer / Director: Carmel Winters
Sales Agent: WestEnd Sales | Production Companies: Port Pictures, Samson Films.
Starring: Hazel Doupe, Johnny Collins, Dara Devaney, Lalor Roddy & Hilda Fay.

DISOBEDIENCE (2017)


A woman returns to the community that shunned her for her attraction to a childhood friend. Once back, their passions reignite as they explore the boundaries of faith and sexuality.
Director: Sebastian Lelio
Sales Agent: FilmNation Entertainment | Production Companies: Element Pictures, Braven Films.
Starring: Rachel Weiz and Rachel McAdams.

TIGER RAID (2016)

Two mercenaries ride a wave of pitch-black camaraderie as they travel through the desert night on their way to carry out a kidnapping in Iraq. As the raid progresses, their frenzied world turns in on itself as past misdeeds come to the surface, and violently threatening to tear them apart.
Director: Simon Dixon
Sales Agent: Bankside Sales | Production Companies: Samson Films, DixonBaxiEvans.
Starring: Brian Gleeson, Damien Molony.

SING STREET (2016)

Golden Globe nominated in 2017 for Best Musical or Comedy, SING STREET tells the story of a 14-year-old named Cosmo growing up in 80's Dublin who must break free of a home strained by his parents' relationship and money troubles, deal with his drop-out older brother's antics, and survive a new public school where the kids are rough and the brothers are tougher.
Director: John Carney
Sales Agent: FilmNation Entertainment
Starring: Ferdia Walsh-Peelo, Jack Reynor, Lucy Boynton.

COMING HOME (2014)
Co-Producer - Feature Documentary

In 2014 Martina Co-Produced COMING HOME with Samson Films, a feature documentary directed by Viko Nikci and winner at the Galway Film Fleadh for 'Best Irish Feature Documentary Award' and the Amnesty International Award for 'Best Human Rights Documentary'. The film tells the story of Angel Cordero as he was charged with attempted murder following a stabbing in The Bronx, New York. Despite evidence of his innocence, Angel was convicted and served thirteen years in prison. Seven years later, Dario Rodriguez confessed to the crime. We follow Angel as he is released into a new age of social communication and eventually confronts the man who took away his freedom.
Director: Viko Nikci | Production Companies: Samson Films, Welcome Home Pictures.

STAY (2013)

STAY is about a group of people caught at a crossroad, each struggling to find a place to stay, to call home. Abbey (Taylor Schilling) finds herself in love with Dermot (Aidan Quinn), a disgraced professor in his 50s who retreated to the rugged expanse of Connemara years ago. Their happy existence is upended when Abbey finds out she is pregnant and Dermot is too immature to even consider the idea of fatherhood. Uncertain about her own feelings, Abbey decides to return home to Canada.
Director: Weibke Von Carolsfeld
Sales Agent: Visit films | Production Companies: Samson Films, Amérique Film
Starring: Taylor Schilling & Aidan Quinn.

RUN & JUMP (2013)


An American doctor travels to Ireland to study the Casey family after 38-year-old Conor suffers a stroke, which changes his personality, leaving dynamo wife and mother Vanetia to run the show.
Director: Steph Green
Sales Agent: Global Screen | Production Companies: Samson Films.
Starring: Maxine Peake, Will Forte, Sharon Horgan.

DARK TOUCH (2013)

In a remote town in Ireland, eleven-year-old Niamh finds herself the sole survivor of a bloody massacre that killed her parents and younger brother. Suspecting a gang of homicidal vandals, the police ignore Niamh's explanation that the house is the culprit. To help ease her trauma, dutiful neighbours Nat and Lucas take her in with the supervision of a social worker. Niamh has trouble finding peace with the wholesome and nurturing couple, and horrific danger continues to manifest.
Director: Marina De Van
Distributors: Canal +, IFC Midnight | Production Companies: Element Pictures, Ex Nihilo, Filmgate Films.
Starring: Missy Keating, Marcella Plunkett, Padraic Delaney.

MILO (2012)

MILO, an isolated 10-year-old boy with 'sensitive skin', lives a life rigidly controlled by his father. Sparked by his first friendship, he runs away from home to attend the school camping trip - but never arrives. He falls into the hands of an ageing criminal couple, with whom he enjoys pure freedom from constraint - until he learns the shocking truth about his skin condition. Filled with doubt about his father's love for him, Milo must try to come to terms with who he really is.
Director: Berend Boorsma & Roel Boorsma | Production Companies: Samson Films, FuWorks.
Starring: Stuart Graham, Laura Vasiliu, Lorcan Bonner.

DOLLHOUSE (2012)


A group of street teens from Dublin's inner city break into a house in an upper class suburb. The break-in quickly moves into a night of frenzy, scandal and consequence.
Director: Kirsten Sheridan | Sales Agent: Visit Films
Starring: Seana Kerslake, Johnny Ward, Jack Reynor.

GRABBERS (2012)

When an island off the coast of Ireland is invaded by bloodsucking aliens, the heroes discover that getting drunk is the only way to survive.
Director: Jon Wright
Distributor: IFC Midnight (US), Sony Pictures (UK) | Production Companies: Samson Films, Forward Films.
Starring: Ruth Bradley, Richard Coyle.

SNAP (2009)

A constant air of mystery pervades the mesmerizing psychological drama SNAP. As Sandra divulges her side of the story to a documentary crew, the film flashes back to an incident involving her 15-year-old son, Stephen, who abducted a toddler and held him captive in his grandfather's home. We don't know why Stephen took the child, nor what he will do with him—we only see them playing games and watching old home movies. As the film oscillates between Stephen in the past and Sandra in the present, their stories begin to unravel, and soon the puzzle pieces fit together to reveal the full picture of the abduction [Tribeca Film Festival].
Director: Carmel Winters | Production Companies: Samson Films.
Starring: Aisling O'Sullivan, Stephen Moran, and Eileen Walsh.

ONCE (2007)

On 24 February 2008, ONCE won the Academy Award for Best Original Song for 'Falling Slowly'. A modern-day musical about a busker and an immigrant and their eventful week in Dublin, as they write, rehearse and record songs that tell their love story.
Director: John Carney
Sales Agent: Summit Entertainment, Lionsgate | Production Companies: Samson Films.
Starring: Glen Hansard, Marketa Irglova.

PAVEE LACKEEN – THE TRAVELLER GIRL (2005)

Critically acclaimed Feature Documentary PAVEE LACKEEN by Director Perry Ogden was released in 2005. Depicting an intimate portrait of a resilient and spirited young girl (Winnie Maughan) and her proud and dignified family, who are part of Ireland's travelling community, it screened at the 62nd Venice Film Festival and won numerous awards including two IFTA awards for 'Best Film' and 'Breakthrough Talent' awards, the Galway Film Fleadh for 'Best 1st Feature' in 2005 and two prizes at the prestigious Mannheim International Film Festival in 2007.
Director: Perry Ogden | Production Companies: An Lár Films.
Starring: Winnie Maughan.

THE HONEYMOONERS (2002)

Raw, funny and poignant, THE HONEYMOONERS tells the story of a jilted groom and a waitress who make an unlikely alliance and find themselves in the depths of rural Ireland. Together they begin a hilarious and chaotic adventure that will change both their lives.
Director: Karl Golden
Sales Agent: Verve Pictures. | Production Companies: Samson Films.
Starring: Jonathan Byrne, Alex Reid.

THE MOST FERTILE MAN IN IRELAND (2000)

Eamon (Kris Marshall), an awkward virgin, lives at home with his mother (Olivia Nash) in Belfast, Ireland. After having sex with local girl Mary (Tara Lynne O'Neill), he realizes that he is sexually skilled. Eamon finds out that Mary is pregnant, despite their use of birth control. As it turns out, Eamon's sperm count is off the charts, and as a result, he starts selling himself to impregnate women in a land of declining birth rates.
Director: Dudi Appleton
Sales Agent: Sky Pictures. | Production Companies: Samson Films.
Starring: Chris Marshall, Bronagh Gallagher, and James Nesbitt.