THE YOUNG OFFENDERS (2018)
Six Part TV Series

Coming-of-age drama about lovable rogues Conor and Jock as they navigate their awkward teenage years, hatching plans and adventures to help distract from their tough home lives and their inability to stay out of trouble at school. Conor's (Alex Murphy) long suffering mother Mairead (Hilary Rose) tries to keep both her son and his best friend Jock (Chris Walley) on the straight and narrow, with varying degrees of success.
Director: Peter Foott
Starring: Alex Murphy, Chris Walley, Hilary Rose and P. J. Gallagher.
Broadcasters: BBC and RTE | Production Companies: Vico Films Ltd.
The Importance of Being Whatever (2011)
TV Series

The series follows mixed race teen Tobi Okocha, the dutiful and hard-working son of struggling single mother Kathy, who is determined that her son will get a good leaving cert and a place in university. Tobi lives a grey life of school, work and homework, until the day he meets beautiful Emma. He follows her into a drama class where they are rehearsing 'The Importance of Being Earnest'. Inspired by the plot of the play, Tobi adopts an alter ego: the ultra-cool Harry. But can Tobi keep up the balancing act?
Director: Ronan and Rob Burke.
Starring: Kwaku Fortune, Lauren Coe, Andrew Bennett.
Broadcaster: RTE | Production Companies: Accomplice TV.

Belonging to Laura (2009)
TV Feature

Belonging To Laura is a modernization and hilariously witty remake of Oscar Wilde's classic play Lady Windermere's Fan. The play takes place on Laura Windermere's 21st Birthday. Engaged to Tiernan, they are the golden couple of the Dublin crowd. With their big day fast approaching, Laura's world is turned upside down when her best friends gleefully break the news that Tiernan has been seen with a mysterious and sexy older woman. Laura learns the hard way that she is not as perfect as she, and everyone else, believed.
Director: Karl Golden.
Starring: Christina Carty, Aisling Bea, Kelly Gough.
Broadcaster: TV3 | Production Companies: Accomplice TV.

Sarah & Steve (2009)


Steve (Emmet Kirwan) is unsure of what he wants out of life. It's not that he doesn't like living in Tallaght, he just doesn't want to settle down and live his parents' life just yet. Steve feels somewhat removed from his friends and family in the Springfield estate, and often observes the goings on around him with a sense of detached bemusement, but buries all this beneath his busy social schedule of club-hopping with his mates and partying in the Dublin mountains. Sarah (Charlene Gleeson) has always seen through Steve's mad-lad routine, and knows he is smarter than he lets on.
Director: David Coffey.
Starring: Emmet Kirwan, Charlene Gleeson.
Broadcaster: RTE | Production Companies: Accomplice TV.
Writers: David Coffey, Emmet Kirwan.
Dan & Becs (2007)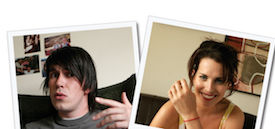 Dan (David Coffey) is an unemployed aspiring filmmaker, an (adopted) only child who lives with his deeply religious parents in Dalkey, South County Dublin. He remains convinced of his creative talents and sex-appeal despite all the evidence to the contrary. Dan is confident (and sometimes cocky) with women and always seeing someone. Rebecca is by far the nicest girl he's ever gone out with. Sadly everyone realises this except for him… Dan & Becs intercuts the video diaries of the two main characters as they discuss their tumultuous relationship, blossoming careers, and the many perils of living life on Dublin's Southside. Capturing the zeitgeist of Celtic Tiger Ireland. Dan & Becs was nominated for a Irish Film and Television Academy Award in 2008.
Director: David Coffey.
Starring: David Coffey, Holly White.
Broadcaster: RTE | Production Companies: Accomplice TV.

Bachelors Walk Christmas Special (2006)


Comedy-drama based around three single men living in a house on Dublin City's Bachelors Walk. Shot in and around Dublin, three series of the programme were broadcast.This was a one-hour Christmas special.
Director: John Carney.
Starring: Simon Delaney, Keith McErlean, Don Wycherley & Marcella Plunkett.
Broadcaster: RTE | Production Companies: Accomplice TV.